Rektor Hadiri The 1st International Conference of International Islamic College Bangkok.
UINFAS Bengkulu – The 1st International Conference of International Islamic College Bangkok on "Rethinking the Economic, Social, and Cultural Integration of Islamic World in the Contemporary Era" adalah kegiatan yang didukung oleh Asia Islamic Universities Association (AIUA) atau Asosiasi Universitas Islam Se-Asia dan merupakan media bagi perguruan tinggi Islam Asia yang bertujuan meningkatkan kualitas universitas-universitas Islam menuju World Class University (WCU). Selain Indonesia beberapa Negara ASEAN diantaranya Malaysia, Brunei Darussalam, dan Thailand terdaftar sebagai anggota AIUA sejak tahun 2018. Hingga saat ini ada 60 perguruan tinggi Islam yang telah bergabung, dan pada acara tanggal 12 September 2023 di Bangkok, Islamic University of Maldives merupakan salah satu negara di luar ASEAN yang turut bergabung di AIUA.
Tujuan dari perjalanan dinas ini adalah untuk merealisasikan penandatanganan MoU dengan beberapa universitas di Asia, konferensi internasional dan training quality assurance pada Asian Islamic Universities Association, dimana UIN Fatmawati Sukarno Bengkulu juga termasuk sebagai anggota dan pernah menjadi tuan rumah pertemuan silaturahmi antar anggota pada pertemuan AIUA yang ke 10 tanggal 28 Maret 2019.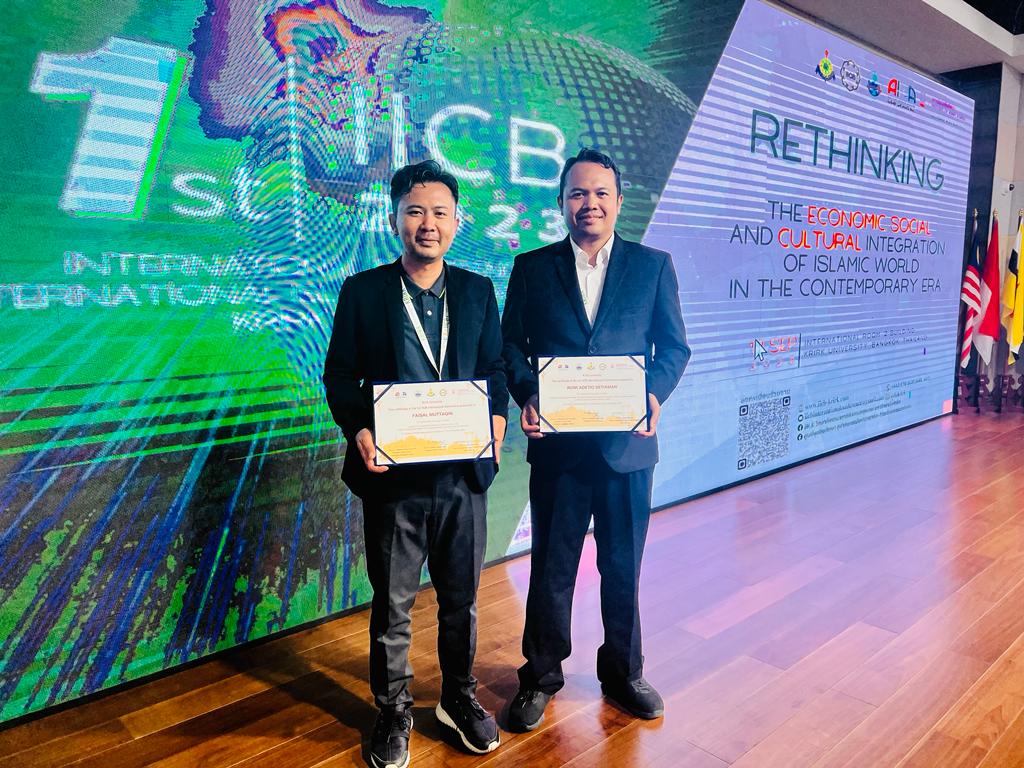 Jumlah pemakalah yang hadir seluruhnya ada 57 presentasi yang dibagi dalam 6 sesi, masing-masing sesi menampilkan 5-6 presentasi. UIN FAS Bengkulu turut mengirimkan 2 makalah untuk presentasi pada acara konferensi internasional ini, yaitu dengan judul "Towards Sustainable Development: Exploring The Nexus of Islamic Microfinance Literacy and Rural Poverty Alleviation Using the Transtheoretical Model" dan "The Role of Co-Creation Activities, Co-Creation Values and Student Trust in Management Study Program Sastisfaction and Loyalty in Indonesia".
Kedua paper tersebut mendapatkan feedback dan apresiasi yang baik dari para peserta yang hadir, karena memiliki kontribusi yang turut membangun sustainable development, Paper pertama memberikan solusi terhadap rendahnya tingkat perekonomian pada Masyarakat pedesaan dan peran Lembaga Mikro Keuangan Syariah dalam meningkatkan ekonomi pedesaan. Adapun paper kedua membahas sisi kreativitas mahasiswa dalam membangun tingkat kepuasan dan loyalitas dalam menempuh pendidikan pada program studi manajemen.